Paths of Glory (1957)
Never has the screen thrust so deeply into the guts of war!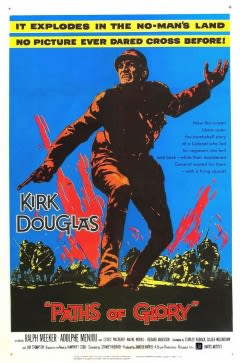 Franse soldaten in de Eerste Wereldoorlog weigeren een onmogelijke aanval in te zetten, waarna de Franse generaals als voorbeeld drie soldaten voor de krijgsraad slepen. Het is aan commandant Dax om te voorkomen dat de drie tot de doodstraf veroordeeld worden.
Toegevoegd 2012-07-14 11:13 | Laatst gewijzigd 2023-01-29 07:00
Alle uitzenddata
| Datum | Tijd | Titel | Zender | IMDb score | IMDb stemmen | FT score | FT stemmen |
| --- | --- | --- | --- | --- | --- | --- | --- |
| 07-11-2020 | 02:00 - 03:25 | Paths of Glory | BBC Two | 8.4/10 | 174,850 | 8/10 | 37 |
| 25-11-2019 | 00:45 - 02:10 | Paths of Glory | BBC One | 8.4/10 | 161,967 | 8/10 | 37 |
| 27-04-2019 | 23:50 - 01:20 | Paths of Glory | BBC Two | 8.4/10 | 154,395 | 8/10 | 37 |
| 14-11-2015 | 23:00 - 00:25 | Paths of Glory | Canvas | 8.5/10 | 110,129 | 8/10 | 35 |
| 14-07-2012 | 23:30 - 00:55 | Paths of Glory | NPO 2 | 8.5/10 | 62,704 | 7.9/10 | 24 |