Monsters vs. Aliens (2009)
The Weird Will Save The World.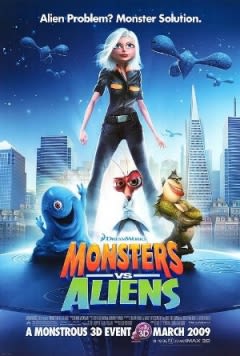 Wanneer Susan Murphy uit Californië geraakt wordt door een meteoor groeit ze vijftien meter en wordt ze meteen bestempeld als 'monster', genaamd Ginormica. Het leger neemt haar gevangen in een geheim kamp en hier blijken door de jaren heen meer monsters vastgehouden te worden. Ginormica maakt kennis met de briljante dokter Cockroach, halfaap-halfvis The Missing Link, de glibberige en onverwoestbare B.O.B., en een gigantische rups die Insectosaurus wordt genoemd. Er komt echter een onverwacht einde aan hun gevangenschap. Want wanneer de aarde wordt aangevallen door buitenaardse robots, is alle hoop van de mensheid gevestigd op de monsters om de wereld te beschermen.
Toegevoegd 2012-07-20 17:06 | Laatst gewijzigd 2023-12-05 07:00
Alle uitzenddata
| Datum | Tijd | Titel | Zender | IMDb score | IMDb stemmen | FT score | FT stemmen |
| --- | --- | --- | --- | --- | --- | --- | --- |
| 09-09-2023 | 20:00 - 22:05 | Monsters vs. Aliens | Comedy Central | 6.4/10 | 171,402 | 6/10 | 63 |
| 15-07-2023 | 21:00 - 23:00 | Monsters vs. Aliens | Comedy Central | 6.4/10 | 170,041 | 6/10 | 63 |
| 25-02-2023 | 20:30 - 22:35 | Monsters vs. Aliens | Comedy Central | 6.4/10 | 166,410 | 6/10 | 63 |
| 27-03-2022 | 15:00 - 16:25 | Monsters vs. Aliens | BBC One | 6.5/10 | 158,095 | 6/10 | 63 |
| 05-03-2022 | 20:30 - 22:35 | Monsters vs. Aliens | Comedy Central | 6.5/10 | 157,561 | 6/10 | 63 |
| 08-01-2022 | 09:05 - 10:35 | Monsters vs. Aliens | Nickelodeon | 6.4/10 | 155,961 | 6/10 | 63 |
| 27-12-2021 | 10:20 - 11:45 | Monsters vs. Aliens | BBC One | 6.4/10 | 155,502 | 6/10 | 63 |
| 21-11-2021 | 09:15 - 11:15 | Monsters vs. Aliens | Nickelodeon | 6.4/10 | 154,766 | 6/10 | 63 |
| 20-11-2021 | 20:00 - 22:05 | Monsters vs. Aliens | Comedy Central | 6.4/10 | 154,747 | 6/10 | 63 |
| 03-10-2021 | 10:00 - 11:50 | Monsters vs. Aliens | Nickelodeon | 6.4/10 | 153,735 | 6/10 | 63 |
| 21-08-2021 | 20:00 - 22:00 | Monsters vs. Aliens | Comedy Central | 6.4/10 | 152,845 | 6/10 | 63 |
| 15-08-2021 | 06:35 - 08:06 | Monsters vs. Aliens | RTL4 | 6.4/10 | 152,519 | 6/10 | 63 |
| 02-05-2021 | 06:15 - 07:50 | Monsters vs. Aliens | RTL4 | 6.4/10 | 149,350 | 6/10 | 63 |
| 21-02-2021 | 06:18 - 07:57 | Monsters vs. Aliens | RTL4 | 6.4/10 | 147,518 | 6/10 | 63 |
| 31-12-2020 | 11:25 - 12:50 | Monsters vs. Aliens | BBC One | 6.4/10 | 146,286 | 6/10 | 63 |
| 29-12-2020 | 14:05 - 16:00 | Monsters vs. Aliens | RTL4 | 6.4/10 | 146,217 | 6/10 | 63 |
| 26-07-2020 | 12:30 - 13:55 | Monsters vs. Aliens | RTL8 | 6.4/10 | 143,624 | 6/10 | 63 |
| 26-07-2020 | 06:51 - 08:31 | Monsters vs. Aliens | RTL4 | 6.4/10 | 143,624 | 6/10 | 63 |
| 02-05-2020 | 15:15 - 16:45 | Monsters vs. Aliens | BBC One | 6.4/10 | 142,078 | 6/10 | 63 |
| 29-12-2019 | 09:15 - 10:40 | Monsters vs. Aliens | BBC Two | 6.4/10 | 139,488 | 6/10 | 63 |
| 08-09-2019 | 16:35 - 18:00 | Monsters vs. Aliens | BBC Two | 6.5/10 | 137,477 | 6/10 | 63 |
| 28-07-2018 | 18:25 - 19:50 | Monsters vs. Aliens | BBC Two | 6.5/10 | 129,603 | 6/10 | 63 |
| 11-02-2018 | 05:30 - 07:20 | Monsters vs. Aliens | RTL4 | 6.5/10 | 126,555 | 6/10 | 63 |
| 07-01-2018 | 07:00 - 09:00 | Monsters vs. Aliens | RTL4 | 6.5/10 | 125,719 | 6/10 | 63 |
| 02-01-2018 | 20:30 - 22:30 | Monsters vs. Aliens | RTL8 | 6.5/10 | 125,563 | 6/10 | 63 |
| 29-12-2017 | 10:00 - 11:25 | Monsters vs. Aliens | BBC Two | 6.5/10 | 125,441 | 6/10 | 63 |
| 04-03-2017 | 15:45 - 17:10 | Monsters vs. Aliens | BBC Two | 6.5/10 | 119,545 | 6/10 | 63 |
| 01-01-2016 | 11:25 - 12:55 | Monsters vs Aliens | BBC Two | 6.6/10 | 107,694 | 6/10 | 63 |
| 31-12-2014 | 15:50 - 17:15 | Monsters vs Aliens | BBC Two | 6.6/10 | 93,790 | 6.1/10 | 64 |
| 21-06-2014 | 20:00 - 21:40 | Monsters vs Aliens | SBS6 | 6.6/10 | 87,320 | 5.9/10 | 57 |
| 15-03-2014 | 20:00 - 21:50 | Monsters vs Aliens | SBS6 | 6.6/10 | 84,020 | 5.9/10 | 55 |
| 29-12-2013 | 14:55 - 16:20 | Monsters vs. Aliens | BBC Two | 6.6/10 | 80,473 | 5.9/10 | 55 |
| 27-12-2012 | 16:25 - 17:50 | Monsters vs. Aliens | BBC Two | 6.6/10 | 61,925 | 5.9/10 | 50 |
| 21-07-2012 | 20:00 - 21:45 | Monsters vs. Aliens | SBS6 | 6.7/10 | 54,172 | 5.8/10 | 46 |