Meet the Parents (2000)
First comes love. Then comes the interrogation.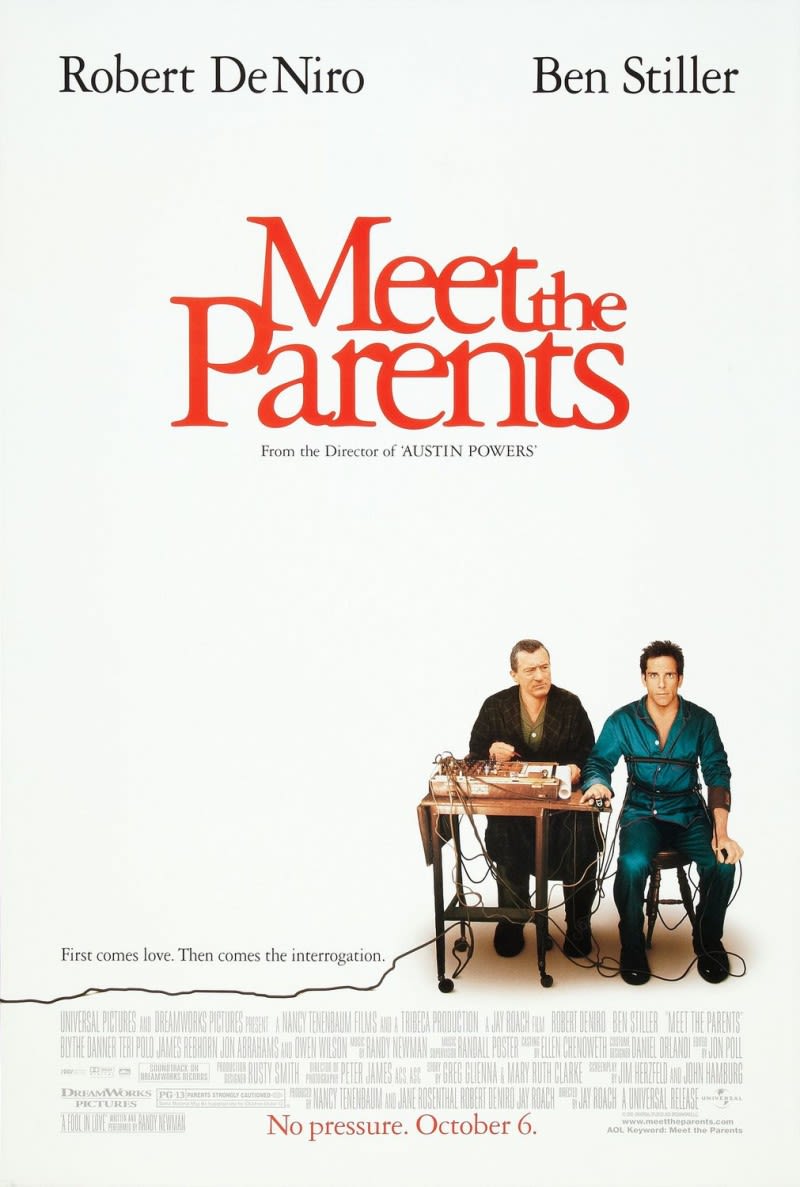 Een jongeman ontmoet voor het eerst de ouders van zijn vriendin, maar hij maakt geen al te beste indruk en het bezoek loopt uit op een ware nachtmerrie. En dat terwijl hij zijn vriendin juist dit weekend een aanzoek had willen doen.
Toegevoegd 2012-04-21 09:15 | Laatst gewijzigd 2023-01-29 07:00
Alle uitzenddata
| Datum | Tijd | Titel | Zender | IMDb score | IMDb stemmen | FT score | FT stemmen |
| --- | --- | --- | --- | --- | --- | --- | --- |
| 24-12-2022 | 20:00 - 22:05 | Meet the Parents | Paramount Network | 7/10 | 337,415 | 6.5/10 | 111 |
| 14-10-2022 | 21:05 - 23:15 | Meet the Parents | Comedy Central | 7/10 | 334,949 | 6.5/10 | 111 |
| 03-07-2022 | 12:50 - 15:00 | Meet the Parents | Paramount Network | 7/10 | 331,179 | 6.5/10 | 111 |
| 02-07-2022 | 17:50 - 20:00 | Meet the Parents | Paramount Network | 7/10 | 331,146 | 6.5/10 | 111 |
| 19-11-2021 | 20:30 - 22:45 | Meet the Parents | Comedy Central | 7/10 | 322,232 | 6.5/10 | 111 |
| 11-07-2021 | 20:30 - 22:55 | Meet the Parents | Comedy Central | 7/10 | 316,926 | 6.5/10 | 111 |
| 12-02-2021 | 20:30 - 22:50 | Meet the Parents | Comedy Central | 7/10 | 311,495 | 6.5/10 | 113 |
| 25-12-2020 | 20:30 - 22:26 | Meet the Parents | Paramount Network | 7/10 | 309,564 | 6.5/10 | 113 |
| 27-05-2020 | 22:30 - 00:30 | Meet the Parents | Paramount Network | 7/10 | 303,150 | 6.5/10 | 111 |
| 23-05-2020 | 20:30 - 22:40 | Meet the Parents | Paramount Network | 7/10 | 302,985 | 6.5/10 | 111 |
| 17-05-2020 | 00:00 - 02:00 | Meet the Parents | Comedy Central | 7/10 | 302,749 | 6.5/10 | 111 |
| 10-05-2020 | 20:00 - 21:30 | Meet the Parents | Comedy Central | 7/10 | 302,508 | 6.5/10 | 111 |
| 23-02-2020 | 19:00 - 21:15 | Meet the Parents | Comedy Central | 7/10 | 299,743 | 6.5/10 | 111 |
| 02-02-2020 | 05:20 - 07:30 | Meet the Parents | RTL4 | 7/10 | 299,139 | 6.5/10 | 111 |
| 26-01-2020 | 05:20 - 07:30 | Meet the Parents | RTL4 | 7/10 | 298,938 | 6.5/10 | 111 |
| 19-01-2020 | 05:20 - 07:30 | Meet the Parents | RTL4 | 7/10 | 298,740 | 6.5/10 | 111 |
| 04-01-2020 | 05:50 - 08:00 | Meet the Parents | RTL4 | 7/10 | 298,195 | 6.5/10 | 111 |
| 27-04-2019 | 21:25 - 23:10 | Meet the Parents | Eén | 7/10 | 291,975 | 6.5/10 | 111 |
| 04-03-2019 | 20:30 - 22:40 | Meet the Parents | RTL8 | 7/10 | 290,580 | 6.5/10 | 111 |
| 14-02-2016 | 00:55 - 02:40 | Meet the Parents | BBC Two | 7/10 | 252,453 | 6.5/10 | 111 |
| 16-11-2015 | 23:45 - 01:25 | Meet the Parents | BBC Two | 7/10 | 246,912 | 6.5/10 | 110 |
| 28-03-2015 | 23:25 - 01:05 | Meet the Parents | BBC Two | 7/10 | 233,409 | 6.5/10 | 107 |
| 15-10-2014 | 22:20 - 00:30 | Meet the Parents | RTL5 | 7/10 | 220,456 | 6.6/10 | 106 |
| 18-05-2014 | 00:05 - 01:50 | Meet the Parents | BBC Two | 7/10 | 209,767 | 6.6/10 | 103 |
| 05-04-2014 | 21:50 - 00:00 | Meet the Parents | RTL5 | 7/10 | 207,190 | 6.6/10 | 101 |
| 22-11-2013 | 20:30 - 22:40 | Meet the Parents | RTL5 | 7/10 | 196,148 | 6.6/10 | 100 |
| 10-04-2013 | 20:30 - 22:40 | Meet the Parents | RTL5 | 7/10 | 171,253 | 6.6/10 | 95 |
| 26-01-2013 | 23:30 - 01:15 | Meet the Parents | BBC Two | 7/10 | 163,145 | 6.6/10 | 92 |
| 22-04-2012 | 18:10 - 20:20 | Meet the Parents | Net5 | 7/10 | 131,250 | 6.6/10 | 86 |