Back to the Future Part II (1989)
Getting back was only the beginning.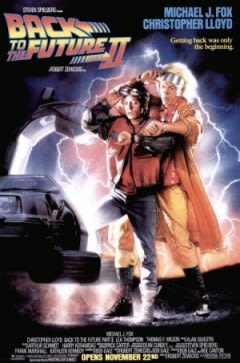 Marty komt net met zijn tijdmachine-auto terug uit 1955 als uitvinder Dr. Emmett Brown hem komt vertellen dat zijn toekomstige kinderen in gevaar zijn. Samen gaan ze naar het jaar 2015, maar daar wordt de tijdmachine gestolen.
Toegevoegd 2012-08-11 01:32 | Laatst gewijzigd 2023-01-29 07:00
Alle uitzenddata
| Datum | Tijd | Titel | Zender | IMDb score | IMDb stemmen | FT score | FT stemmen |
| --- | --- | --- | --- | --- | --- | --- | --- |
| 28-11-2022 | 20:30 - 22:40 | Back to the Future Part II | Veronica | 7.8/10 | 532,883 | 7.8/10 | 134 |
| 29-06-2022 | 20:30 - 22:40 | Back to the Future Part II | Veronica | 7.8/10 | 521,179 | 7.8/10 | 134 |
| 11-07-2021 | 20:00 - 22:10 | Back to the Future Part II | Veronica | 7.8/10 | 493,592 | 7.8/10 | 134 |
| 02-01-2021 | 20:15 - 22:30 | Back to the Future Part II | Veronica | 7.8/10 | 478,878 | 7.8/10 | 134 |
| 26-07-2020 | 20:00 - 22:10 | Back to the Future Part II | Veronica | 7.8/10 | 464,270 | 7.8/10 | 134 |
| 30-06-2019 | 19:45 - 22:00 | Back to the Future Part II | Veronica | 7.8/10 | 428,392 | 7.8/10 | 134 |
| 28-07-2018 | 22:20 - 00:30 | Back to the Future Part II | Veronica | 7.8/10 | 399,227 | 7.8/10 | 134 |
| 10-08-2017 | 20:30 - 22:45 | Back to the Future Part II | Net5 | 7.8/10 | 373,213 | 7.8/10 | 134 |
| 09-01-2017 | 20:30 - 22:40 | Back to the Future Part II | Veronica | 7.8/10 | 354,081 | 7.8/10 | 134 |
| 09-01-2017 | 20:30 - 22:40 | Back to the Future Part II | Veronica | 7.8/10 | 354,081 | 7.8/10 | 134 |
| 06-06-2016 | 20:30 - 22:40 | Back to the Future Part II | Veronica | 7.8/10 | 333,202 | 7.8/10 | 134 |
| 15-09-2015 | 22:00 - 00:00 | Back to the Future Part II | FOX | 7.8/10 | 292,477 | 7.8/10 | 127 |
| 21-08-2015 | 22:00 - 00:10 | Back to the Future Part II | FOX | 7.8/10 | 288,766 | 7.8/10 | 124 |
| 24-02-2015 | 22:00 - 23:50 | Back to the Future Part II | FOX | 7.8/10 | 262,519 | 7.8/10 | 123 |
| 30-12-2014 | 15:00 - 17:00 | Back to the Future Part II | FOX | 7.8/10 | 251,252 | 7.8/10 | 121 |
| 25-12-2014 | 17:00 - 18:50 | Back to the Future Part II | FOX | 7.8/10 | 250,295 | 7.8/10 | 121 |
| 05-08-2014 | 16:35 - 18:30 | Back to the Future Part II | FOX | 7.8/10 | 231,138 | 7.8/10 | 119 |
| 09-03-2014 | 20:00 - 21:55 | Back to the Future Part II | FOX | 7.8/10 | 218,566 | 7.8/10 | 112 |
| 25-12-2012 | 16:20 - 18:20 | Back to the Future Part II | RTL7 | 7.7/10 | 166,461 | 8/10 | 100 |
| 11-08-2012 | 21:20 - 23:30 | Back to the Future Part II | RTL7 | 7.7/10 | 150,981 | 7.9/10 | 95 |