The Good, the Bad and the Ugly (1966)
The Man with No Name Returns!
IMDb 8.8/10 (749,992) | FilmTotaal 8.6/10 (207)

178 minuten | Western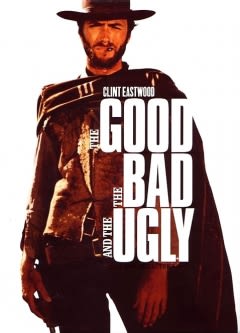 Een oude man heeft goudstukken begraven in een graf en men is dan ook op zoek naar het graf. Twee mannen zijn erbij als hij de bergplaats opbiecht, maar geen van beiden hoort het helemaal. Ze zullen daarom bij elkaar moeten blijven. Een derde man voegt zich bij hen.
Toegevoegd 2014-07-18 09:00 | Laatst gewijzigd 2023-01-28 07:00
Alle uitzenddata
| Datum | Tijd | Titel | Zender | IMDb score | IMDb stemmen | FT score | FT stemmen |
| --- | --- | --- | --- | --- | --- | --- | --- |
| 07-08-2022 | 20:00 - 23:50 | The Good, the Bad and the Ugly | RTL7 | 8.8/10 | 749,992 | 8.6/10 | 207 |
| 01-08-2021 | 22:25 - 00:45 | The Good, the Bad and the Ugly | RTL7 | 8.8/10 | 708,576 | 8.6/10 | 207 |
| 16-07-2021 | 21:35 - 00:30 | The Good, the Bad and the Ugly | Canvas | 8.8/10 | 705,023 | 8.6/10 | 207 |
| 17-01-2021 | 20:00 - 23:45 | The Good, the Bad and the Ugly | RTL7 | 8.8/10 | 686,263 | 8.6/10 | 207 |
| 07-06-2020 | 20:00 - 23:45 | The Good, the Bad and the Ugly | RTL7 | 8.8/10 | 663,815 | 8.6/10 | 207 |
| 01-09-2019 | 20:00 - 23:40 | The Good, the Bad and the Ugly | RTL7 | 8.8/10 | 632,310 | 8.6/10 | 207 |
| 24-04-2019 | 20:30 - 00:15 | The Good, the Bad and the Ugly | RTL7 | 8.9/10 | 616,275 | 8.6/10 | 207 |
| 09-10-2018 | 20:30 - 00:15 | The Good, the Bad and the Ugly | RTL7 | 8.9/10 | 593,412 | 8.6/10 | 207 |
| 07-04-2017 | 20:30 - 00:15 | The Good, The Bad, The Ugly | SBS9 | 8.9/10 | 532,708 | 8.6/10 | 207 |
| 04-06-2016 | 20:30 - 00:15 | The Good, The Bas, The Ugly | SBS9 | 8.9/10 | 495,196 | 8.6/10 | 207 |
| 23-07-2015 | 20:30 - 00:15 | The Good, the Bad and the Ugly | Veronica | 8.9/10 | 445,063 | 8.7/10 | 195 |
| 19-07-2014 | 20:00 - 23:45 | The Good, the Bad and the Ugly | Veronica | 9/10 | 372,309 | 8.7/10 | 183 |