The Great Dictator (1940)
The Comedy Masterpiece!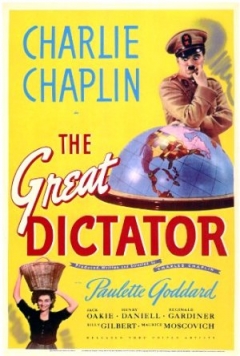 Een soldaat van het leger van Tomania redt tijdens de eerste wereldoorlog het leven van de officier Schultz. Maar hij verliest zijn geheugen en keert pas na 20 jaar later terug in de Joodse ghetto waar hij als kapper werkzaam was. Ondertussen is de dicator Hynkel aan de macht en worden de Joden vervolgd. Wanneer Hynkel toevallig wordt gearresteerd door zijn eigen leger denkt iedereen dat de kapper Hynkel is.
Toegevoegd 2012-12-25 11:06 | Laatst gewijzigd 2023-01-28 07:00
Alle uitzenddata
| Datum | Tijd | Titel | Zender | IMDb score | IMDb stemmen | FT score | FT stemmen |
| --- | --- | --- | --- | --- | --- | --- | --- |
| 25-12-2017 | 21:55 - 23:55 | The Great Dictator | Canvas | 8.5/10 | 157,959 | 8.1/10 | 49 |
| 20-04-2014 | 14:00 - 16:00 | De dictator | Eén | 8.5/10 | 89,197 | 8/10 | 43 |
| 26-12-2012 | 14:00 - 16:02 | The Great Dictator | Canvas | 8.5/10 | 63,931 | 8/10 | 38 |