Indiana Jones and the Temple of Doom (1984)
The man in the hat is back...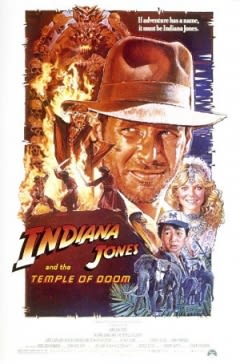 Na een incident in een nachtclub in Shanghai neemt de archeoloog Indiana Jones de benen. Samen met een nachtclubzangeres en zijn jonge helper Short belandt hij in een dorpje waar een groep schurken een magische steen heeft gestolen. Indiana Jones belooft te helpen om hem terug te vinden.
Toegevoegd 2012-05-11 18:22 | Laatst gewijzigd 2022-12-05 07:00
Alle uitzenddata
| Datum | Tijd | Titel | Zender | IMDb score | IMDb stemmen | FT score | FT stemmen |
| --- | --- | --- | --- | --- | --- | --- | --- |
| 08-08-2022 | 20:30 - 22:50 | Indiana Jones and the Temple of Doom | Net5 | 7.5/10 | 482,379 | 7.2/10 | 135 |
| 20-01-2022 | 20:30 - 22:50 | Indiana Jones and the Temple of Doom | Veronica | 7.5/10 | 471,972 | 7.2/10 | 135 |
| 31-05-2021 | 20:30 - 22:50 | Indiana Jones and the Temple of Doom | Net5 | 7.5/10 | 456,203 | 7.2/10 | 148 |
| 27-04-2020 | 20:30 - 22:40 | Indiana Jones and the Temple of Doom | Net5 | 7.6/10 | 428,772 | 7.2/10 | 135 |
| 11-04-2020 | 19:25 - 21:15 | Indiana Jones and the Temple of Doom | BBC One | 7.6/10 | 426,634 | 7.2/10 | 135 |
| 21-07-2019 | 20:30 - 22:50 | Indiana Jones and the Temple of Doom | Veronica | 7.6/10 | 408,459 | 7.2/10 | 135 |
| 19-01-2019 | 20:00 - 22:40 | Indiana Jones and the Temple of Doom | SBS6 | 7.6/10 | 394,659 | 7.2/10 | 135 |
| 27-12-2018 | 14:30 - 16:20 | Indiana Jones and the Temple of Doom | BBC Two | 7.6/10 | 391,565 | 7.2/10 | 135 |
| 02-09-2018 | 19:10 - 21:00 | Indiana Jones and the Temple of Doom | BBC One | 0/10 | 0 | 7.2/10 | 135 |
| 12-02-2018 | 20:30 - 22:50 | Indiana Jones and the Temple of Doom | Veronica | 7.6/10 | 371,217 | 7.2/10 | 135 |
| 21-12-2017 | 14:45 - 16:35 | Indiana Jones and the Temple of Doom | BBC Two | 7.6/10 | 367,268 | 7.2/10 | 135 |
| 29-07-2017 | 20:00 - 22:30 | Indiana Jones and the Temple of Doom | SBS6 | 7.6/10 | 357,809 | 7.2/10 | 135 |
| 10-06-2017 | 18:25 - 20:15 | Indiana Jones and the Temple of Doom | BBC Two | 7.6/10 | 354,350 | 7.2/10 | 135 |
| 20-03-2017 | 20:30 - 22:50 | Indiana Jones and the Temple of Doom | Veronica | 7.6/10 | 348,570 | 7.2/10 | 135 |
| 28-12-2016 | 14:45 - 16:35 | Indiana Jones and the Temple of Doom | BBC Two | 7.6/10 | 340,216 | 7.2/10 | 135 |
| 12-05-2016 | 20:30 - 22:50 | Indiana Jones and the Temple of Doom | Veronica | 7.6/10 | 322,285 | 7.2/10 | 135 |
| 22-12-2015 | 14:45 - 16:35 | Indiana Jones and the Temple of Doom | BBC Two | 7.6/10 | 304,706 | 7.2/10 | 133 |
| 08-08-2015 | 19:25 - 21:15 | Indiana Jones and the Temple of Doom | BBC Two | 7.6/10 | 289,460 | 7.2/10 | 129 |
| 29-12-2014 | 17:05 - 18:55 | Indiana Jones and the Temple of Doom | BBC Two | 7.6/10 | 257,723 | 7.2/10 | 123 |
| 27-07-2013 | 20:00 - 21:40 | Indiana Jones and the Temple of Doom | BBC Two | 7.6/10 | 199,196 | 7.2/10 | 114 |
| 22-07-2013 | 20:30 - 23:05 | Indiana Jones and the Temple of Doom | SBS6 | 7.6/10 | 198,591 | 7.1/10 | 113 |
| 14-07-2012 | 19:30 - 21:20 | Indiana Jones and the Temple of Doom | BBC Two | 7.5/10 | 162,807 | 7.1/10 | 99 |
| 07-07-2012 | 19:30 - 21:20 | Indiana Jones and the Temple of Doom | BBC Two | 7.5/10 | 162,092 | 7.1/10 | 99 |
| 12-05-2012 | 20:00 - 22:30 | Indiana Jones and the Temple of Doom | Veronica | 7.5/10 | 156,692 | 7.1/10 | 96 |