Harry Potter and the Half-Blood Prince (2009)
Once again I must ask too much of you, Harry.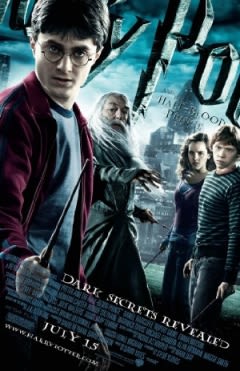 Als Harry, Ron en Hermelien aan hun zesde jaar aan Hogwarts beginnen, komt Harry in het bezit van een geheimzinnig volgekladderd toverdrankenboek, wat ooit het eigendom is geweest van de onbekende Half-Blood Prince. Wat moet Harry doen met de af en toe wel erg obscure spreuken die het boek vermeldt? En ondertussen heeft hij te kampen met een moeizaam sociaal leven en laat Dumbledore hem stukje bij beetje informatie zien over het duistere verleden van Voldemort. Deze lessen van Dumbledore zullen leiden tot het grootste geheim van de duistere heerser en het zal Harry helpen om te overleven.
Toegevoegd 2012-03-18 10:50 | Laatst gewijzigd 2023-01-28 07:00
Alle uitzenddata
| Datum | Tijd | Titel | Zender | IMDb score | IMDb stemmen | FT score | FT stemmen |
| --- | --- | --- | --- | --- | --- | --- | --- |
| 09-12-2022 | 22:30 - 01:35 | Harry Potter and the Half-Blood Prince | Net5 | 7.6/10 | 544,978 | 7.3/10 | 173 |
| 05-12-2022 | 20:30 - 23:35 | Harry Potter and the Half-Blood Prince | Net5 | 7.6/10 | 544,632 | 7.3/10 | 173 |
| 01-11-2021 | 20:30 - 23:35 | Harry Potter and the Half-Blood Prince | Net5 | 7.6/10 | 502,430 | 7.3/10 | 173 |
| 16-11-2020 | 20:30 - 23:35 | Harry Potter and the Half-Blood Prince | Net5 | 7.6/10 | 464,952 | 7.3/10 | 173 |
| 11-11-2019 | 19:30 - 22:35 | Harry Potter and the Half-Blood Prince | Net5 | 7.6/10 | 430,079 | 7.3/10 | 173 |
| 05-11-2018 | 20:30 - 23:40 | Harry Potter and the Half-Blood Prince | Net5 | 7.6/10 | 394,779 | 7.3/10 | 173 |
| 24-02-2018 | 20:00 - 23:55 | Harry Potter and the Half-Blood Prince | SBS6 | 7.6/10 | 375,239 | 7.3/10 | 173 |
| 20-11-2014 | 20:30 - 23:35 | Harry Potter and the Half-Blood Prince | Veronica | 7.5/10 | 251,784 | 7.3/10 | 162 |
| 11-05-2014 | 20:30 - 23:35 | Harry Potter and the Half-Blood Prince | Net5 | 7.5/10 | 233,703 | 7.3/10 | 152 |
| 19-10-2013 | 20:00 - 23:05 | Harry Potter and the Half-Blood Prince | SBS6 | 7.4/10 | 212,232 | 7.2/10 | 145 |
| 21-12-2012 | 20:30 - 22:30 | Harry Potter and the Half-Blood Prince | SBS6 | 7.3/10 | 167,032 | 7.1/10 | 131 |
| 19-03-2012 | 20:30 - 23:30 | Harry Potter and the Half-Blood Prince | SBS6 | 7.3/10 | 130,251 | 7.1/10 | 115 |