Above the Law (1988)
He was a covert agent trained in Vietnam. He has a master 6th degree black belt in Aikido... and family in the Mafia. He's a cop with an attitude.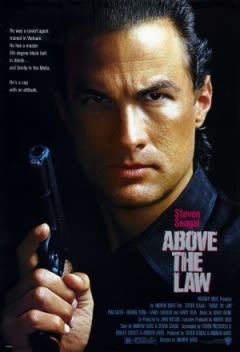 Nico Toscani is agent in Chicago en op het spoor gekomen van een criminele bende. De zaak blijkt te groot voor hem, want de verdachten van een drugsdeal worden vrijgelaten en Nico wordt gedwongen zijn insigne in te leveren. Ook al is Nico geen politieagent meer, hij blijft zich met de zaak bezighouden en verdenkt een aantal ex-CIA-agenten.
Toegevoegd 2014-06-19 09:00 | Laatst gewijzigd 2022-10-03 07:00
Alle uitzenddata
| Datum | Tijd | Titel | Zender | IMDb score | IMDb stemmen | FT score | FT stemmen |
| --- | --- | --- | --- | --- | --- | --- | --- |
| 18-08-2022 | 22:25 - 01:15 | Above the Law | SBS9 | 6/10 | 32,126 | 6.4/10 | 17 |
| 14-08-2022 | 20:30 - 22:35 | Above the Law | SBS9 | 6/10 | 32,097 | 6.4/10 | 17 |
| 29-07-2022 | 22:30 - 00:35 | Above the Law | Veronica | 6/10 | 32,019 | 5.8/10 | 24 |
| 24-06-2021 | 22:55 - 00:55 | Above the Law | SBS9 | 6/10 | 29,437 | 6.4/10 | 17 |
| 22-06-2021 | 23:10 - 01:15 | Above the Law | Veronica | 6/10 | 29,428 | 6.4/10 | 17 |
| 26-10-2018 | 23:00 - 01:05 | Above the Law | SBS9 | 6/10 | 25,489 | 6.4/10 | 17 |
| 14-09-2018 | 22:50 - 00:50 | Above the Law | SBS9 | 0/10 | 0 | 6.4/10 | 17 |
| 13-04-2018 | 23:15 - 01:10 | Above the Law | SBS9 | 6/10 | 24,814 | 6.4/10 | 17 |
| 10-04-2018 | 23:45 - 01:30 | Above the Law | Veronica | 6/10 | 24,795 | 6.4/10 | 17 |
| 09-03-2018 | 20:30 - 22:35 | Above the Law | SBS9 | 6/10 | 24,668 | 6.4/10 | 17 |
| 23-01-2016 | 22:00 - 00:00 | Above the Law | Veronica | 5.9/10 | 21,374 | 6.4/10 | 17 |
| 21-06-2014 | 01:00 - 02:50 | Above the Law | SBS6 | 5.9/10 | 18,291 | 6.3/10 | 16 |