12 Angry Men (1957)
They have twelve scraps of paper... Twelve chances to kill!
IMDb 8.9/10 (549,040) | FilmTotaal 8.4/10 (110)

96 minuten | Drama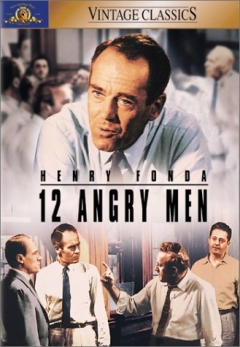 Twaalf juryleden worden 95 minuten lang opgesloten in een achterkamer om te beslissen over het lot van een van moord beschuldigde jongen. In sobere visuele stijl laat Sidney Lumet in 12 Angry Men zien hoe racisme, vooroordelen en persoonlijke omstandigheden juryleden kunnen beïnvloeden en hoe moeilijk het is om emoties en argumenten te scheiden. De spanning tussen de twaalf tot elkaar veroordeelde juryleden wordt vakkundig opgevoerd,tot het verlossende einde.
Toegevoegd 2012-04-28 11:33 | Laatst gewijzigd 2023-01-28 07:00
Alle uitzenddata
| Datum | Tijd | Titel | Zender | IMDb score | IMDb stemmen | FT score | FT stemmen |
| --- | --- | --- | --- | --- | --- | --- | --- |
| 11-07-2018 | 20:50 - 22:40 | 12 Angry Men | Canvas | 8.9/10 | 549,040 | 8.4/10 | 110 |
| 29-04-2012 | 14:05 - 15:40 | 12 Angry Men | Eén | 8.9/10 | 183,546 | 8.4/10 | 81 |